NAME: Eddie
AGE: 16
CITY/STATE: Denville, NJ
GENDER: Male
SEXUAL ORIENTATION: female
A BIT ABOUT YOURSELF: Im 16 i have a girl i asked her on on top of a building while a train passed by i got to high school umm dont do drugs

STUFF
10 OR MORE BANDS: highwater waltz, thenumbertwelvelookslikeyou, from a second story window, twelvegauge valentine, between the buried and me, action-action, horse the band, folly,flesh and blood robot, everytimeidie
5 OR MORE MOVIES: euro trip,say anything,peeweesplayhouse,scary movie 2,10 tings i hate about you
3 OR MORE BOOKS: the outsiders,that was then this is now, catcher in the rye
WHERE DO YOU SHOP: A&F,hollister,online,diesl and lucky band
FAVORITE FAST FOOD PLACE OR RESTURAUNT: wendys
WHAT BAND DO YOU HATE: thrice

WHAT DO YOU THINK OF....
GAY MARRIAGES: dosnt matter to me
VEGANISM/VEGINTARIANISM:awesome!
CASUAL SEX: ghey
ABERCROMBIE AND FITCH: *brushin my shoulders off*
HOT TOPIC: idk i get cds from there
SCENESTERS: co0o0o0l

PROMOTE US TO A COMMUNITY OR 2 JOURNALS AND SHOW US THE LINK:
PICTURES
post at least 4 clear pictures of your face. PLEASE no photoshoped or HIGH contasted pics.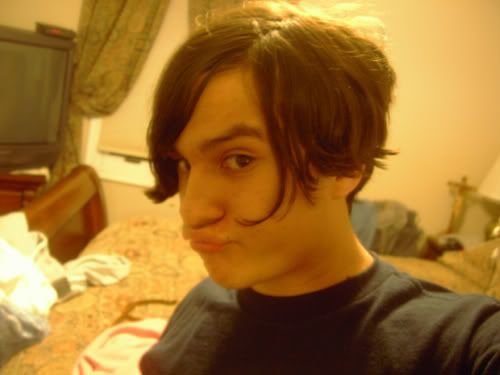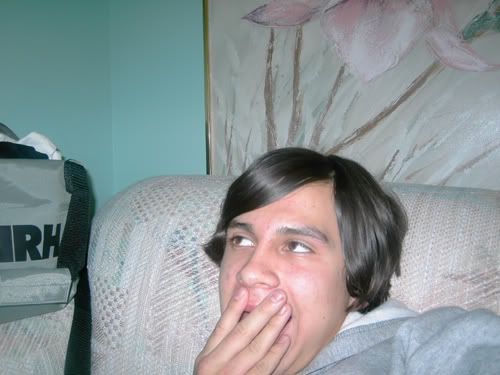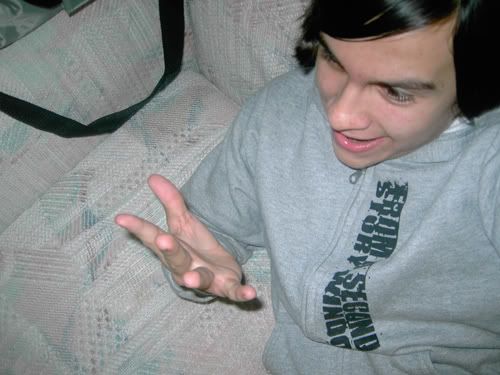 ---------------------------->